Finally: A Point n' Shoot for Pros
Canon's groundbreaking G9 offers astounding sharpness, RAW capture
By Frank Van Riper
Photography Columnist
A wise teacher learns from his student. And so I did recently—about what finally may be the point and shoot digital camera that not only can make great vacation and family snaps, but also double as a backup body on real assignments and projects.
In other words: a point and shoot for pros.
At the end of a private teaching session on studio flash (more on that below) Steve, my student—who also is a terrific photographer and a photo gear-head—took out his latest toy, hooked it up to my studio strobes, and took a picture of me.
The portrait was fine, although I hadn't really dressed for it, obviously. What mattered more was that I simply could not believe the quality of the digital image made by Steve's tiny camera.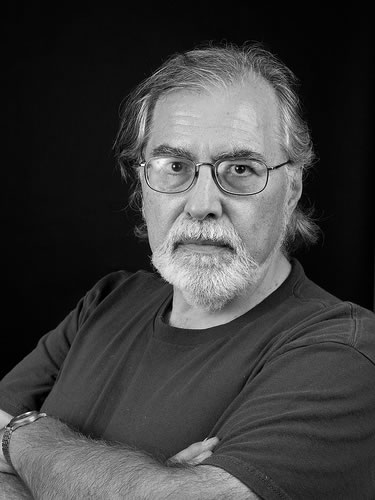 I was amazed at this portrait of me, made by friend and student Steve Goldenberg. It blew up fine as an 8x10, but that was just the beginning… © Steve Goldenberg
This was film-grade quality. And not just any film, but fine-grain black and white film like Delta 100 or HP-5. For example: though I would not recommend this to any but my closest friends and associates, you actually could blow up Steve's digital image on a computer screen and count the pores on my nose. Or individual hairs on my head. Or… well, you get the idea.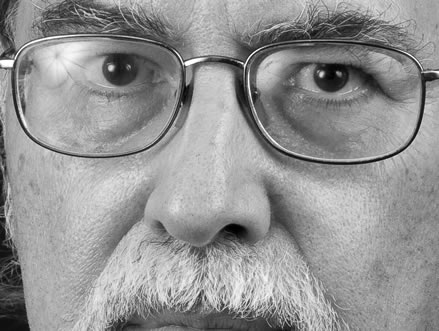 …The quality of the digital image, blown up here to poster size, was even more spectacular—and made me want to get my hands on my own Canon G9 as soon as possible.
In short I had not seen this level of quality on anything but film cameras with primo glass (read: Leica) or on the highest-end digital cameras, the price tags of which generally begin at $3,000 and climb skyward.
The object of all this delight was Canon's brand new PowerShot G9--PowerShot being the name that Canon gives to its large stable of great (and some not-so-great) point and shoot cameras. With a list price of $499 (street price perhaps 20-30% lower), the G9 obviously is not geared to the average weekend snapshooter. For these folks, Canon's other great PowerShot, the tiny SD40—
http://www.talkingphotography.com/archive/2007/point&shoot.htm
--will easily do the trick, especially since this camera is now going in some discount outlets for as little as $160--a $200 savings from list.
No, the G9 is for that small group of serious photographers who want a point and shoot that can be counted on to deliver, not just convenience, but simply superb image quality time after time, combined with creative control not usually found on weekend snapshot cameras.
Put another way, the G9 is for professional and near-professional shooters who would like every now and again to lay down their Humongoflex DSLRs and join their amateur brethren in whipping a little gizmo out of the shirt pocket (or purse) and making a great shot before getting back to the barbecue.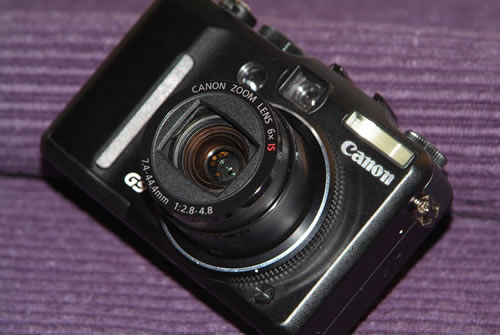 It's a handsome piece of gear, this G9, and rugged, too. Loaded with sensible features, it functions great as a P&S, but also can serve as a backup for a "real" camera in a pinch. © Frank Van Riper
The problem, of course, is that once you get used to using equipment that produces great images for your professional and personal creative life, it's tough to give that up, even for the kind of miniature convenience offered by the superb SD40. What the G9 does—and which so many other higher-end P&S cameras do not do—is offer feature after sensible feature that will get the most out of almost any picture-taking situation.
And, if the G9's instruction manual does take a fair amount of close reading, it is not as complicated as others I have seen. And the results are worth the effort.
Consider:
--At 12.1 megapixels, the G9 offers resolution currently found on only the highest end full sized DSLR's
--Simply by offering RAW capture along with Jpeg capture (in multiple configurations), the G9 lifts itself from the average point and shoot pack. Though some photographers (myself among them) rarely use RAW for most commercial purposes, there is no getting around the fact that this mode allows maximum creative control by allowing you to capture film-like detail in your images.
--With an on-board hot shoe, geared to Canon's (or, frankly, anyone's) TTL flash units, the G9 allows you to free yourself from the admittedly dinky little flash that is built into the camera. Additionally, using an external pc connector in the hot shoe—as my friend Steve did—allows you easily to use large studio strobes.
--By offering full manual control of aperture and f-stop (f.2.8 through f.8; 1/1250th of a second to 15 seconds) the G9 offers a wealth of options for anyone's manual image-making.
--It may be a little thing, especially to those who think it's normal to make photos while holding their camera a foot away from them, but the G9 features a real viewfinder that zooms along with its lens—and which even allows for diopter adjustment: something unheard of in nearly all P&S cameras.
--With a truly remarkable sensor giving you a baseline of sensitivity that, for now anyway, is unsurpassed, the G9 will lift your available light photographs way above those made on other cameras. I found this out for myself when I made a simple Program mode available light shot in a camera store the other day, then made the same (Program) shot on a new Nikon P&S that likely will be offered as a slightly smaller and less expensive alternative to the G9. To the average weekend snapshooter, the Nikon's smaller price (and size) might be persuasive. But to anyone who cares about real picture-making, the difference between the two images in terms of how much more shadow detail the G9 captured would make choosing between the two a no-brainer.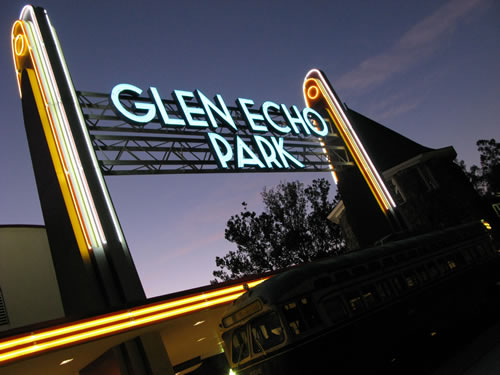 To show off the way the G9 can operate in low light, here's a shot of the main marquee at Glen Echo Park, Md., where I teach my photo workshops. I had just arrived for a class and was curious how the camera would render detail. From the historic trolley car display in front to the beautiful evening sky, the camera performed beautifully. © Frank Van Riper
That pretty much sums up the case for this remarkable camera. But let me add another thought about how this camera expands my own comfort zone, especially when I am working on location with only a limited amount of gear.
Recently, my wife Judy and I completed work on a six-year book project to document Venice in winter. It was done entirely on film, entirely in black and white, with cameras ranging from Hasselblads to Holgas; from Nikons to Leicas.
During this period I also carried with me a tiny digital Canon PowerShot SD10, the precursor of the SD40 that I now own. This camera was perfect for snapshots and I used it often—just as one is supposed to use a point and shoot. In fact, I once got a great screensaver out of it—a colorful shot of myriad boats happily crowding the Grand Canal near the Rialto Bridge during the feast of the Epiphany.
But for all of the SD10's merits, I never could have used the camera to make a "real" picture for our book--it simply didn't have the "juice" for it: the ability to make pictures of sufficiently high image quality.
Now though, with the G9, that all is changed.
This camera can run with the big dogs, and, to mix metaphors, will be a reassuring extra set of eyes in the camera bag or shirt pocket should I ever need it for serious image-making.
All other times, it will be the best damn digital point and shoot I ever have owned.
One-on-One Instruction: For those living in the Washington DC area, Frank Van Riper offers individual photography instruction along with his classroom workshops and field trips. A three-hour session at his Washington home/studio, costs $250. For details and appointments, call 202-362-8103.
[Copyright Frank Van Riper. All Rights Reserved. Published Nov. 12, 2007]
Frank Van Riper is Washington-based commercial and documentary photographer, journalist and author. He served for 20 years in the New York Daily News Washington Bureau as White House correspondent, national political correspondent and Washington bureau news editor, and was a 1979 Nieman Fellow at Harvard. Among others, he is the author of the biography Glenn: The Astronaut Who Would Be President, as well as the photography books Faces of the Eastern Shore and Down East Maine/ A World Apart. His book Talking Photography is a collection of his Washington Post and other photography writing over the past decade. Van Riper's photography is in the permanent collections of the National Portrait Gallery and the National Museum of American Art in Washington, and the Portland Museum, Portland, Maine. He can be reached through his website www.GVRphoto.com
[Copyright Frank Van Riper. All Rights Reserved.]
Study with Frank Van Riper at Glen

Echo

PhotoWorks, 2007-08
Flash Photography Demystified

($95)
Stop being intimidated by your flash. Frank's intense, user-friendly one-morning hands-on seminar will help you beat your flash unit into compliant submission. (Sunday, February 3, 2008, 10am-1pm)
Documentary Photography: Digital or Film

($300)
Taught by an acclaimed documentary photographer and author. Will help students document their world, more easily photograph people, and work in unfamiliar surroundings. Film or digital welcome. (6 weeks, Thursdays, November 1-December 13 (no class Nov. 22) 7-10:30pm) ALSO: Thursdays, February 7-March 13, 2008, same time
Field Trip: National Gallery of Art, East Wing

($150)
3-meeting National Gallery of art, East Wing, workshop. A brief organization meeting a week before the trip, with the follow-up critique a potluck dinner at Frank's home. Beginning when the doors open at the NGA you will find endless opportunities for shooting--people, architecture, abstracts--all in beautiful light. (Field Trip, Sunday, November 4. Contact instructor for additional dates: gvr@gvrphoto.com or 202.362.8103.
Online registration:
www.glenechopark.org ("Classes & Workshops," then "Fall, Winter 2008")
[Copyright Frank Van Riper. All Rights Reserved. published 10/15/07]